Keep your skin fresh and hydrated this summer with products from ST Belle Dame! Located next to Tiff's Treats at Peachtree Corners Town Center, ST Belle Dame is your one-stop-shop for all things beauty-related including skincare and cosmetics.
If the last year has taught us anything, it's that we need to take care of ourselves and our bodies more than ever – our skin is no exception. It's important to keep your skin glowing and in good condition! While you can work to do this with drugstore cosmetics and moisturizers, more often than not you're using artificial and animal-tested products. At ST Belle Dame, however, you have a variety of specially curated and top-ranked brands and goods to choose from. With their mission to allow true, inner beauty to shine without pressure from the industry to look a certain way, ST Belle Dame meets its consumers where they're at and provides them with beauty products on a person by person basis because skincare is not one size fits all. No matter your age, skin type or skin concerns, ST Belle Dame provides a skincare product, at-home skin care device or makeup brand that works best for you. Continue your routine from home with a collection of devices that are highly trusted and are offered with big promotions and exclusive lifetime warranties.
As a countermeasure for the resurgence of COVID-19, ST Belle Dame is now also offering protection masks including disposable, KF94s, and KN95s, and luxury masks.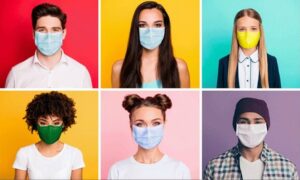 To view more of the brands and products available at ST Belle Dame and to book your appointment at the Med Spa, click here. This is your chance, for "beautiful skin, beautiful you."